All Your Channels in One View
Unified Inbox
Manage all your channels from one inbox
Custom Channels
Connect existing web chat and custom channels
Multi Agent
Work simultaneously with colleagues
Intelligent Routing
Route conversations to teams or locations
Chatbots
Integrate your chatbot and web chat
Teamwork the Eazy way
No more missed messages or waiting customers. Assignments make it clear who's responsible. Together, your team can accomplish anything.
Multi-agent functionality
Work together on incoming conversations with a clear overview of who's responsible and who is assigned to each message.
Intelligent routing
Ensure the right team gets assigned the right messages based on your criteria and the complexity
Automation
Ensure the right team gets assigned the right messages based on your criteria and the complexity
Track your performance
We know that KPIs are very valuable in managing your organisation's performance. We help you to measure relevant information only so you can focus on managing your KPI's.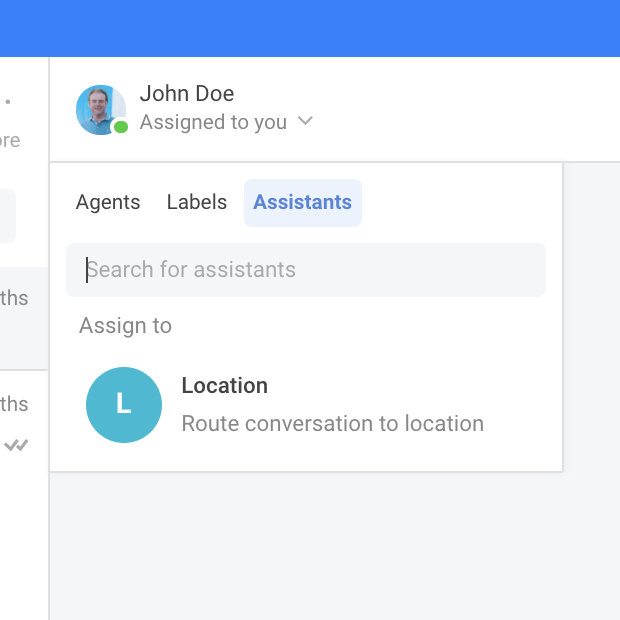 Stay Productive
Eazy is packed with many features that'll help you and your team work efficiently.
Automation
Automate conversations for 24/7 availability and cost reduction and use a handover to the agents when needed.
Quick Replies
With Quick Replies, you can create short instant replies that can be selected by your agents. Quick replies are compatible on all channels including the use of sending WhatsApp (media) templates.
Labels
With labels, you can assign meaningful keywords to your conversations in Eazy. Use labels to specifically describe what the conversation is about. These labels act as a reminder so that you can later remember the contents of the conversation, at a glance.
Stay Safe
Eazy is built with your security in mind.
IP Whitelisting
IP whitelisting is a security feature often used for limiting and controlling access only to trusted users. It allows you to create lists of trusted IP addresses and/or IP ranges from which your users can access Eazy.
Two Factor Authentication (2FA)
Two-factor authentication is an extra layer of security for your Eazy account designed to ensure that you're the only person who can access your account, even if someone knows your password.
Single Sign On (SSO)
The Eazy Sign-On (SSO) service makes it easy to centrally manage access to your accounts so that your employees can sign in with their existing corporate credentials.
Let us show you how
Get in touch for more information, a demo or a free trial, and we'd love to show you how Eazy it is.